The Kansas winner will share the record-breaking $656 million jackpot with so-far-unidentified winners in Maryland and Illinois.
Kansas Lottery authorities presented a jumbo check for an estimated $218 million to a cardboard poster figure with a smiley-face head and the words "anonymous jackpot winner" printed on its chest.
Dennis Wilson, executive director of the Kansas Lottery, said that in the state of Kansas, winners can choose to remain anonymous.
"That person has chosen that option," Wilson said. He would not reveal the gender, age or any other details about the winner.
"They didn't actually discover they had the winning ticket until Monday," Wilson said. "They actually just checked the tickets of all the games they had purchased and found out they were the winner."
"They checked it over 10 times to make sure they were reading it right, to verify it, and they still had a hard time believing it," Wilson said.
The winner chose to take the cash option of $157 million instead of the yearly payments over 26 years which would have matched the $218 million on the check.
Wilson said the winner called ahead and then arrived at the Kansas Lottery office today at around 11:45 a.m. with an attorney and financial advisors.
When asked if the winners were frequent players, Wilson said, "They play quite often. They don't play a lot, but they play quite often."
"It proves real people really do win, and you could be next," he said with a laugh.
A representative from the store where the ticket was sold was presented with a $10,000 check.
The drawing for the world's largest jackpot was one week ago, on March 30. The winning numbers were 2-4-23-38-46 and Mega ball 23.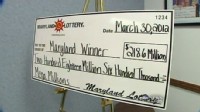 Mega Millions Winners Still Unknown
Watch Video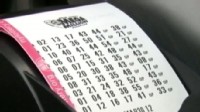 Mega Millions Winners: When Will They Come Forward?
Watch Video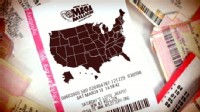 Mega Millions Winners: Who Are They?
Watch Video
Over the past week, rumors have been rampant about the identities of the three winners.
A Maryland McDonald's employee and mother of seven, Mirlande Wilson, 37, has been dominating the rumor mill by claiming that she bought the ticket, but has yet to find it.
Carole Everett, director of communications for the Maryland lottery, told ABCNews.com that there is "no indication" that the story is true.
"Everyone says they know [the winner] is their cousin, mother, friend, guy up the street or guy who mows the lawn," Everett said. "But the proof has to be in front of us."
During a
news conference Wednesday
, Wilson's attorney, Edward Smith, said he had not seen the ticket.
"I don't think I want to see it until the lottery people have it in their hot, little hands," he said.
Maryland's lottery
director, Stephen Martino, called a news conference on Thursday to dispel rumors that the state's winner had already come forward. He said he feared that doctored images of winning tickets over social media and April Fools' Day tales had led the real winner to dispose of his or her ticket.
"The ticket has not been claimed," Martino said today. "People need to look at their tickets."
Martino held the news conference after two people claimed to have won the bonanza, but had not shown their tickets to the state lottery office. The news conference, he said, was meant to "separate fact from fiction."
"Based on what has happened in the past, most people need a second to breathe and then seek counseling or advice," Everett said. "It would be highly unusual for someone to go get this out to the newspaper before coming to us. I'd be surprised."
Everett said that winners usually call in to the lottery office or have a lawyer contact officials. She does not expect that someone will come walking through the door with a winning ticket. She expects it could take days or weeks for winners to come forward.
Maryland and Kansas allow winners to remain anonymous, but
Illinois will identify
the winner. The newly-minted multi-millionaires can decide between 26 yearly payments totaling $218.6 million or a one-time lump sum of $157.8 million.
More News here
Quantum Science News
News Just For You
Cyber Network News on Google Currents
Keep up to Date with News on your iPhone or
Android
Phone.
Cyber Network News is now on Google Currents
Want to read this edition optimized for your phone or tablet?